It wasn't that long ago that the banking industry was viewed as a dinosaur when it came to the adoption of technology and providing customers with digital experiences. My how times have changed. We are at a moment in time when user experience (UX) is becoming central to bank's customer relationships and determining its ability to grow.
Even before the COVID-19 crisis gripped our communities, there was a burgeoning technological race among banks from across the spectrum as they figured out how to engage with younger customers with high expectations for secure, simple, and user-friendly digital experiences. The public health crisis has only accelerated that adoption and pushed the digital transformation of banking into high gear.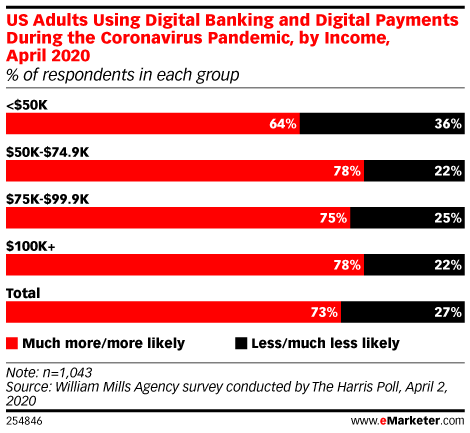 An April 2020 William Mills Agency survey conducted by The Harris Poll found that 73 percent of U.S. adults were more likely to leverage digital banking and payments while social distancing. Respondents making more than $50,000 annually were even more likely to make financial transactions digitally.
While this may decrease post-social distancing and public health restrictions, many customers' habits have changed, and they are becoming more and more comfortable integrating technology into their finances. With comfort, comes higher expectations. As a result, you should be placing even more importance on UX for your website and across all digital channels.
First Stop: Your Bank's Website
While users connect digitally with their bank for a variety of reasons, the website is often the first place they go. Whether looking for a client portal, applying for a loan, opening an account, or even finding the nearest branch, the main website continues to be the first place clients and prospects turn to find what they are seeking.
And often, they are not even finding the bank's website through Google or another search engine. Direct traffic easily ranks at the top for banking website traffic sources, per the online banking study by SEMrush. The research found that almost 70 percent of bank website traffic came directly. That was almost three times the rate of search traffic and exponentially more than paid ads, social or referrals.
This means that your visitors are going straight to your website with a clear purpose in mind. In assessing your UX, one key stat to remember is the bounce rate for the bank's website.
Bounce rate is the rate of visitors that come to the website but only visit a single page. Per Google, bounce rate is calculated in the following way: "Bounce rate is single-page sessions divided by all sessions or the percentage of all sessions on your site in which users viewed only a single page and triggered only a single request to the Analytics server."
In the U.S., bounce rate across financial technology websites (which includes bank websites) is about 42 percent, per the SEMrush study. That is lower than many industries and is further evidence that visitors are coming to your website with intent.
The knee jerk reaction to this data point is sometimes adverse. However, Yoast notes that it is more complex than that and a high bounce rate can mean three things:
Page quality is low and lacks engagement.

The page does not fit your audience, which does not engage.

Visitors quickly find the information they are looking for (i.e. address, phone number, external link to a secure account management app, etc.).
Bounce rate is a mixed bag, so it is essential to consider the bounce rates for the individual pages and the purpose of those pages. For example, a blog with a high bounce rate is not necessarily a negative. While a strong call-to-action (CTA) should keep some visitors, it is understandable that a visitor coming from an email or social media is going to read the content and then move on.
However, a high bounce rate on your home page could be a warning sign that visitors are not finding what they want and leaving in frustration or going elsewhere. If you are failing to engage visitors on this page, there needs to be an analysis of your website's user experience.
It is important to remember that no single datapoint should drive your website development and design, but bounce rate – combined with other key metrics such as visitor time, abandonment rate, pageviews, conversions, etc. – provides clues about how you manage your website and utilize your resources.
Keep It Simple, Give Them What They Want
For good reason, that means that banks – from nationally recognized names to leading community banks – are moving resources toward their websites and their digital channels. Often that investment is spent on an attractive web presence that is on brand and drives search traffic.
However, as the data suggests, UX should be top of mind when redesigning a bank website. A simple analogy to understand this concept; Just like you want to have a clean house before inviting people over, you want an inviting web presence before worrying about clients finding it and not wanting to stay very long. In this day and age, user experience is imperative to not just building a successful web presence, but also for building a successful brand. As we have noted in a previous blog, customer experience will soon overtake price and product as the key brand differentiator and improving UX brings a ridiculous return on investment of 9,900 percent in driving new business and retaining existing business.
To provide a great experience, it is important to ensure easy navigation, valuable and engaging content, and clear calls-to-action, all while maintaining a visually clean design. In other words, give them what they want and keep it simple.
The benefits of simple design with clear UX has been proven in a recent joint study by Harvard University, the University of Maryland, and the University of Colorado. A review by CXL noted that "Ultimately, no specific, universal design guidelines emerged from the study. The only thing that was universal was that a more visually complex website had less visual appeal."
However, many websites – and sites across industries – try to accomplish too many goals on a single page. The result is a busy page, no clear paths for the user, and a poor UX. In turn, poor UX causes a bank to lose leads, conversions, and clients.
Make It Personal
In UX design, simplification is a big step forward for any website. However, it can also now be viewed as the first step toward a more impactful experience: personalization. One of the most innovative UX approaches available. This is when a bank website delivers targeted, in-context experiences that drive engagement, conversion, and loyalty through producing a unique experience for each user as they interact with your website.
Web personalization is the process of creating unique experiences guided by data as users move throughout your website. This strategy allows banks and other organizations to provide targeted information and content based on a variety of accumulated data points, such as location, device type, browsing behavior, and more.
When personalization was first utilized, it was viewed as full of potential, but also full of risk that you would scare off visitors by using personal information to overtly. Now, personalization is just a further example of shifting and growing user expectations with 80 percent of web visitors expecting to see personalized content. This is particularly true of a community bank where a website needs to be an extension of the personal services that they have come to expect.
To be effective personalization strategies must be built correctly and require an investment in time, resources, and data. Working with an experienced partner is critical when undertaking web personalization.  
When done correctly, web personalization can have a significantly positive impact on your bank and can directly support your goals and objectives. Research has shown that personalization increases website conversions, improves user experience, increases brand loyalty, and drive CTAs. Per a study by our partner HubSpot, personalized CTAs perform 202 percent better than their generic counterparts. 
Your Audience, Your Website, Your Goals
While there are a lot of data points and technological configurations, it is important not to get lost in the details and lose sight of your goals and how improved web visitor engagements can you help meet those goals. Some examples:
Looking to increase new local customers? Improve local SEO and expedite account opening and brand finders.
Want to grow your mortgage broker network like Sandy Spring Bank? Streamline the process for connecting brokers and submit applications.
Try to increase customer retention and satisfaction? Provide clear pathways for clients on your websites to find the most used services and easily connect with support.
The list of applications goes on and on. Whatever your bank's goal, you can be sure that a carefully designed user experience can support that goal and the underlying objectives.
Resources:
Coronavirus Boosts Online Banking Payments Usage | eMarketer
https://www.emarketer.com/content/coronavirus-boosts-online-banking-payments-usage-in-the-us?ecid=NL1009
Why Simple Websites Are Scientifically Better | CXL
https://cxl.com/blog/why-simple-websites-are-scientifically-better/
Understanding bounce rate in Google Analytics | Yoast
https://yoast.com/understanding-bounce-rate-google-analytics/
Webinar: 4 Ways To Improve Local SEO | Unleashed
https://www.unleashed-technologies.com/Local-SEO-Webinar
Premier Bank Selects Drupal 8 For Revitalized Web Presence | Unleashed
https://www.unleashed-technologies.com/our-work/premier-bank-selects-drupal-8-revitalized-web-presence