There is a death coming to proprietary content management systems. For the longest time, open source solutions were locked out of the mid to enterprise markets as many people questioned the "enterprise" nature of the solution. Was it capable of supporting some of the world's largest enterprises?
The truth is open source is more than capable and in many instances, the best option for organizations looking to maximize their investment online. Today we're seeing platforms like Drupal, Magento, and WordPress take over some of the largest web properties on the internet. We see their presence in the government, private sector, associations, and much more.
How can we know if this is true? Well, data is a great place to start. Let's look at what different trusted sources around the world are telling us about the usage of these different systems. For this, I'm going to leverage free sources that are common browser plug-ins that people may be familiar with. Those sources are BuiltWith and Wappalyzer. It's important to realize that this data is inclusive of only what people visit for the most part as the browser plug-in reports back to each of these services. While we can't say it's the be-all and end-all of data sources, it certainly has a great amount of data for us to point in a specific direction.
Wappalyzer Data
According to the Wappalyzer portal, you'll see that the top 3 CMS recorded are open source solutions including Drupal, WordPress, and Joomla!.
For many years, Joomla! ruled over all other open source content management systems. However, over the past five to six years, we've seen the market track away from that platform in a dramatic fashion while Drupal and WordPress have experienced explosive growth through constant re-investments back into the community and platforms themselves. Drupal has taken larger organizations by storm with its ability to manage complex and highly dynamic web properties that create seamless experiences for its users. WordPress has absolutely conquered the small website and small business market with its fast-to-get-online interface and streamlined administrative interface.
What deserves the most attention from this list is the fact that no proprietary CMS is in the top three and the ones featured on this list (most notably Squarespace and Wix) are meant for very small scale website presences. You do not see the presence of Ektron (now Episerver), SiteCore, or Adobe AEM on this list.
Built With Data
For the BuiltWith portion, I pulled the CMS Usage Statistics that present themselves in a different format for your review.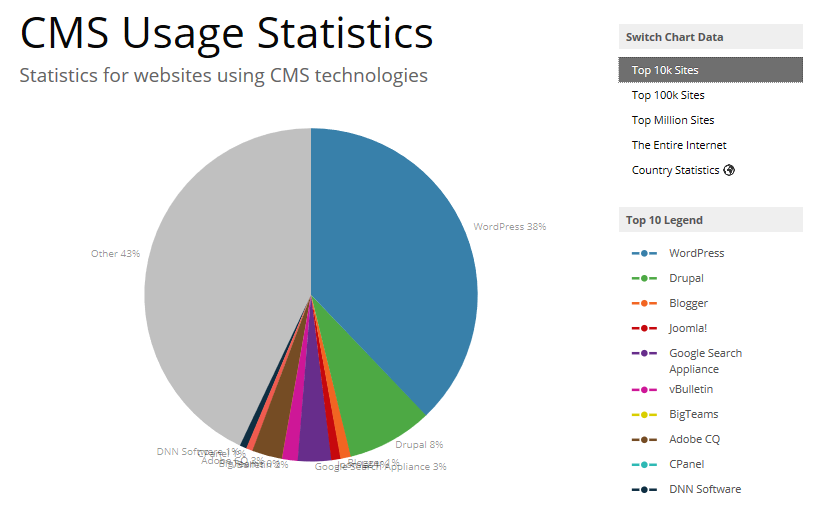 We can expect the data set to be disparate from one another since different groups of people use either BuiltWith or Wappalyzer and each tool catalogs based on the user's browsing history. Even though the percentage values for the different solutions may vary, it is quite obvious that there is consistency in the top solutions which are mainly comprised of Drupal and WordPress.
Turning away from this data is hard even if you don't like what it's telling you. Drupal has proven to satisfy the enterprise market need and WordPress has proven its handle on small businesses. So what does this mean for proprietary web solutions?
What Does Gartner Say?
There is a body out there that says "Who's Who" in the enterprise space and that is Gartner, the world's leading information technology research and advisory company. You'll find that there is a clear line of progression for open source in Gartner research. For the sake of clarity, Acquia is home to the creator of Drupal, Dries Buytaert. So Drupal is named in accordance with that company. It's important to remember this solution is free to the world.
In 2015, Acquia was ranked fourth overall in a pack with several other proprietary solutions.
Just one year later in 2016, we see that Acquia jumps to the top three, clearly separating itself from the pack while other content management systems have left the quadrant entirely.
That seems pretty 'enterprise' to me when Acquia stands alongside with SiteCore and Adobe AEM.
Final Thoughts
There is a place and need for proprietary solutions; however, the fluid nature of the web is causing these options to become less appealing. They lose in the ability to add features as quickly in line with consumer expectations. They also have smaller teams which makes keeping up with security threats difficult. Most importantly, proprietary solutions stifle creative website building due to the fact that only select vendors can work with these platforms and the purchasing client never really owns any aspect of their own solution.
If you couple these major business challenges along with the fact that each platform in the proprietary space worth talking about requires an annual license that is almost always licensed per server, clients could be spending $45,000 to $500,000 per year just for the privilege of using these systems.
While I thoroughly expect that there are many who do not agree with my assessment of the market, I don't see how these proprietary systems can thrive in a market place in which open source solutions are providing more robust capabilities out of the box. If you're going to develop into your website and add the business-critical functions that make you unique, is there a need to pay for the privilege anymore?
Markets change and this one now belongs to the open source systems of the world. So says the government, financial institutions, professional sports, entertainment, and many more. Perhaps you just watched The GRAMMYs? Yep, built on Drupal.