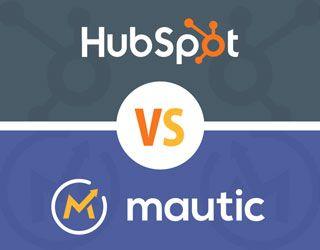 Before we get into the nitty-gritty of HubSpot vs. Mautic, it's critical to understand that the importance of marketing automation software lies within its capabilities. Marketing efficiency is critical and marketers can't afford to spend time on redundant tasks that can be easily replaced by software.
Hence, the need for reliable cost-effective solutions to help automate monotonous tasks throughout multiple marketing channels (i.e. email, websites, social media). Marketing automation software allows organizations to do exactly this by streamlining complex processes in order to generate leads more efficiently. In HubSpot's State of Inbound 2017 report, 40% of marketers reported that marketing automation is their company's top priority in terms of inbound marketing projects.
However, with a plethora of marketing automation solutions offered, how do you determine the right one for your organization? For the purposes of this post, I will review two that I have personally been using in my role as Marketing Assistant at Unleashed: HubSpot and Mautic. After leveraging both platforms, I've compiled an introductory list of pros and cons for HubSpot vs. Mautic to take into consideration when deciding which platform best meets your organization's business needs.
Marketing Automation with HubSpot
HubSpot is an inbound marketing and sales automation platform designed to offer an all-in-one approach. Out of the box, HubSpot checks the list for most marketing tasks required to nurture leads down the pipeline. It's training, support, and content resources are unrivaled, as it offers an easy-to-use interface for even the most entry-level marketer.  
Pros
High level of usability in management and setup
Intuitive for the end-user
A robust, all-in-one solution
Offers a growth stack interconnecting sales, marketing, and CRM services
Voluminous content resource library designed to support marketers on any level
Extensive reporting and analytics capabilities
Capacity to build beautiful landing pages without the need of IT support
A large community offering 24/7 support
Cons
A 12 month contract locks you in
Pricing determined by the number of contacts which can result in a hefty price tag for organizations with small budgets
Limited integration capabilities without developer customizations 
Social Media limitations with formatting & posting videos 
Marketing Automation with Mautic
Mautic is still a relatively new player in the marketing automation landscape; however, it introduces a new world of open source marketing automation software to marketers. Mautic offers a complete, feature-packed product at no cost; something marketers would not otherwise receive without paying for premium marketing automation software. While it has a bit more progress to make in terms of usability, it's already a sharp competitor for HubSpot in my opinion.
Pros
Open Source software (no contract with annual costs)
Free to download, reducing business costs
Unlimited integrations to adapt to your technology stack
Flexible and scalable for future growth
Natively supports variable A/B testing for landing pages and websites
Close integration capabilities with other open source technologies, such as Drupal
Cons
IT support is needed for setup, configuration, hosting
Developer support is needed for custom landing pages and custom emails
A difficult learning curve for Marketers who are not tech-savvy
Slower support times due to a smaller community backing it
Not as intuitive for the end user
So, HubSpot vs. Mautic?
When push comes to shove, HubSpot takes the popular vote as a more established solution with a much larger community already backing it. Its vast, prepackaged capabilities cover a multitude of marketing tasks needed to satisfy current business needs from an all-in-one solution.
Mautic is offering marketers an attractive alternative. With more time and an increase in adoption, Mautic could soon be a force to be reckoned with as it continues to evolve to meet the needs of marketers by offering an open source alternative to the marketing automation giants.