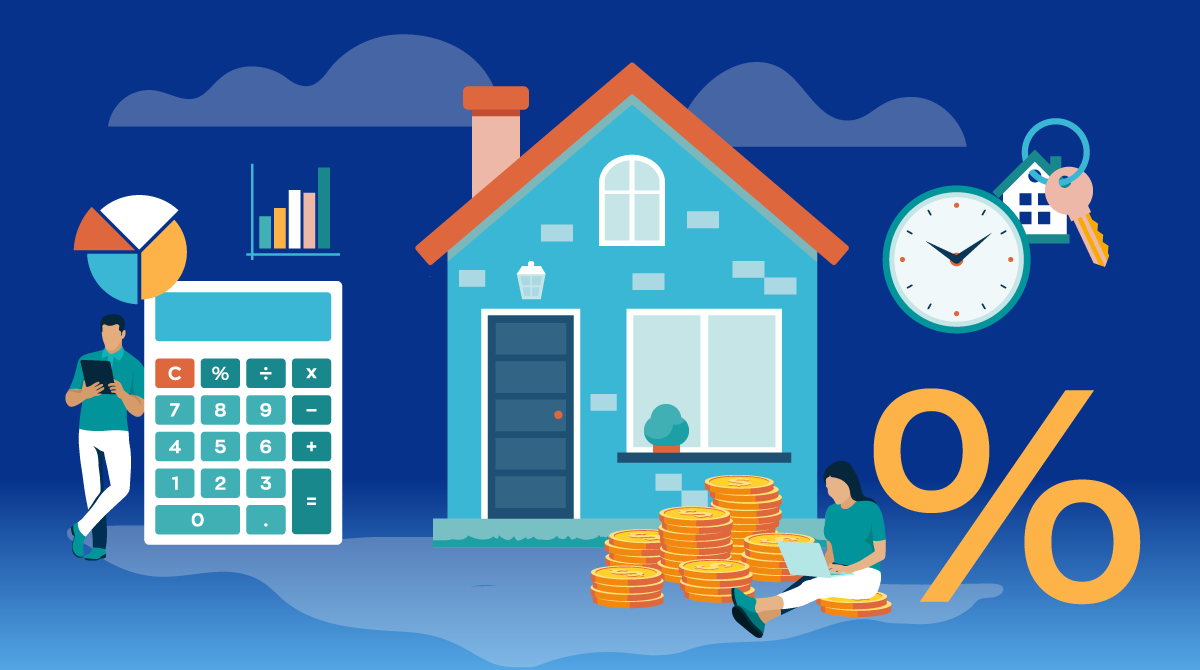 Mortgage Marketing: A Guide for Community Banks
Mortgage marketing is a massive opportunity for community banks and lenders to build long-lasting relationships with customers in their community. Community banks have been and continue to be disproportionally disrupted by the COVID crisis and having a strong digital mortgage marketing strategy for 2021 is the best way to level the playing field, especially as the housing market remains strong and interest rates low.
What is Mortgage Marketing?
Mortgage marketing encompasses all the activities that a bank or lender goes through to inform, educate, and persuade their audiences to use their mortgage services over another. Everything from a catchy tagline to a professional website ties into your mortgage marketing program. Today's mortgage market is hyper-competitive. Thanks to short-term variables, like low-interest rates, and long-term trends, such as the growing adoption of digital banking, consumers can access more lenders than ever before. To earn more mortgage business, banks, need to offer more than a local community branch and a trusted track record. Consumers expect around-the-clock access through digital tools, quick processing, and increased transparency. Right now, national banks are dominating the lending market simply because they have more advanced digital mortgage marketing programs. However, with the right strategy, expertise, and investment, community banks can be at the forefront of mortgage lending within their target markets.

How Can A Strong Mortgage Marketing Strategy Help Community Banks?
National banks have had an advantage in the past decade as they invested heavily in digital banking and marketing. Still, borrowers miss the competitive rates, low fees, and personalized services that come with borrowing from a community bank.
As the once cutting-edge digital banking tools become more accessible to community banks, there is a substantial opportunity for local institutions to capitalize on mortgage lending. They only need the right digital marketing strategy to get them started and strategic investments along the way.
Our guide will give you tips for every stage of the buyer's journey, from ensuring qualified borrowers know your community banks' mortgage services to help the borrower understand why your bank is the right option for their mortgage to connecting the borrower with your mortgage network.
Mortgage Marketing for Millennials Compared To Baby Boomers.
Millennials are finally players in the mortgage market that lenders should pay attention to. A 2018 realtor.com report shows millennials are responsible for the largest share of new mortgages (42 percent) in dollar volume. The good news is that small and community-based banks have the upper hand in matching the millennial consumer's ideals. Millennials grew up in harsher economic times than any generation since the Great Depression. Millennials matured during the housing bubble and the Great Recession, which was attributed mostly to big banks. It makes sense that as they move into the mortgage market, they are more skeptical than previous generations and put more emphasis on finding a lender they can trust. Due to more considerable student loan debt and less saving ability, millennials are also a price-sensitive generation that will appreciate and respond to community lenders' cost savings and lower fees. 
Community banks' only deficiency is providing the millennial borrowers with the level of technology and automation that they expect. With new digital tools and a user-centric website, your bank could easily overcome those gaps.
Digital Mortgage Marketing Guide for Lenders (13 Tips)
1. Develop a Consistent Branding Strategy
Branding is essential for the health of any business. In essence, your bank's brand is the way it connects with current and future customers and the value it delivers to that group. Your bank should have a brand strategy already in use that you should use to build your mortgage marketing brand.
If your bank does NOT have a branding strategy, HubSpot offers a great (and free) Guide to Branding to get you started.
Once there is a defined branding strategy for the bank, you need to carry elements over to your mortgage marketing strategy. Be aware of basic things like proper use of your bank's logo and color scheme. Just as importantly, the mortgage marketing strategy should be speaking to the same target audience in the same tone, with the same language. Consistency builds effective and trustworthy marketing. The last step to a consistent branding strategy is to ensure that the program's goals, values, and mission align with the overall bank's brand. This alignment will build much-needed trust between your bank and borrowers. It is nice to know what to expect; give that experience to your borrowers by having a consistent branding strategy.
Extraco Banks website exemplifies consistent branding across their website and programs as color scheme, messaging, and fonts are carefully curated throughout the website.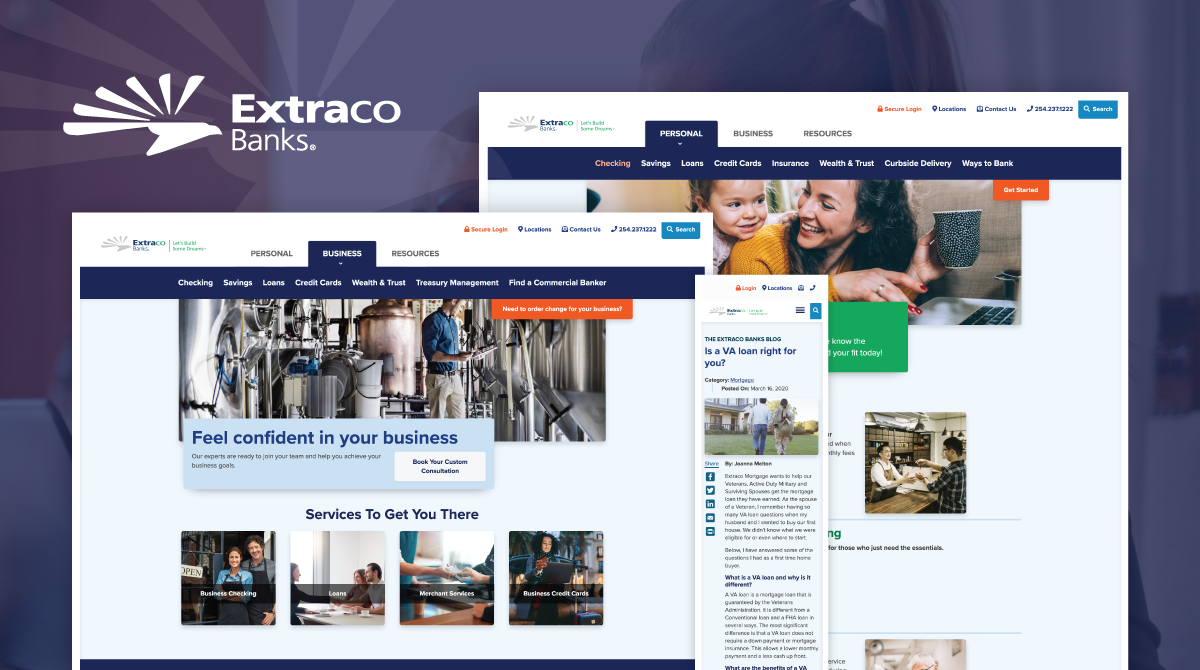 2. Create a Digital Strategy
Creating a digital strategy sounds intimidating, but in short, a digital strategy is just listing your digital goals and creating a plan to reach them. While digital expertise is valuable in execution and to provide some guidance, it is something that is within your bank's grasp. A mortgage marketing digital strategy goal might be something like:
Increase mortgage marketing webpage traffic by 15 percent visitors per month
Grow Facebook followers by 20 percent
Increase online lending applications by 15 percent
Increase the keyword set by 13 percent
Once these goals are established, the plan will consist of digital tactics needed to reach these goals, which are covered below. Keep reading!
3. Develop User Journeys and Personas
Before you start creating the digital building blocks to facilitate your online strategy, you need to develop an in-depth understanding of the users you want to attract and how they will interact with your bank's mortgage marketing program.
In web development and design, we do this by developing user journeys and user personas. A user persona is a representation of your target audiences created with demographic, psychographic, and behavioral data. Persona's for a mortgage marketing program could include:
Mortgage broker, age 25-55, specific geographic region, and a specific interest in easy online approvals.
First-time homeowners, age 24-38, interested in competitive interest rates and educational partners.
Vacation/second home buyers, age 40-55, interested in an experienced adviser, and personalized attention. ;
As you can see, all these buyer types or user personas would likely uniquely interact with your site because they have different goals in mind. The realtor wants to send her clients somewhere to get a quick greenlight. The first-time owners want more information like educational blogs or reviews and a partner to help them, and the vacationer enjoys an expert that knows the local market. By developing a buyer persona, you can tailor their user journey or the way they interact with your site to meet their needs quickly and convert the user to a customer.
Developing user journeys can be complicated, but there are many resources to help, and your return on investment (ROI) will thank you. Check out the example below.
4. Create A Professional and Functional Landing Page for Your Website
Creating a professional landing page dedicated to mortgage marketing is a must-have. Your bank's mortgage marketing pillar page will support SEO, social media, analytics tracking, and more. Your pillar page should act as a hub of information that draws in your target audience. When borrowers reach your page, they should be able to get a sense of your bank's brand, understand what mortgage services you offer, and navigate any other mortgage content on your website. The most important aspect of a pillar page is the call-to-action that allows visitors to engage with your bank. Consider adding a "Schedule A Meeting" button or a "Apply Now" form.
5. Determine KPIs for Your Program
Key performance indicators, or simply known as KPIs, are essential to set up as early as possible so that no marketing efforts are wasted, and your efforts can be utilized in areas that yield the most positive results. These indicators will define which building blocks in your digital strategy help your bank progress towards hitting the outlined goals.
Going back to our previous example: if your selected goal is to increase online lending applications by 15 percent, then KPIs might be:
Number of blog articles pushing to the application page ;
The volume of traffic to the online application page
Conversion rate from page views to applications submitted
KPIs should complement and support the program goals mentioned earlier. You can view them as markers that can demonstrate that your activities are helping your bank mortgage marketing program grow and moving toward meeting those goals. Additionally, they help track the impact of time and resources invested in building your mortgage marketing machine.
6. Develop an SEO Strategy
Search Engine Optimization (SEO) is the most integrated, complex, and challenging piece of your mortgage marketing program, but it is also the most powerful. Your website can have consistent branding, clear messaging, and a 100-percent conversion rate, but without proper SEO structure, no one will see it, and all your past efforts will be moot.
Start your SEO journey by focusing on on-page or technical SEO because these sub-categories focus on technical changes that can be controlled very easily. Technical SEO is also crucial to local SEO, which is the idea that search engines will display results based on location. This can be especially advantageous to community banks when they're competing with digital or national institutions.
Take a look at the Google search provided below. Most of the results are banks local to the Columbia Maryland area. These banks organically rank in a Google search for banks near me because they have features such as: location pages on their website, update their Google My Business listing, and an accurate schema markup.
Once you're your on-page SEO is set up correctly, you should turn your attention to link building, keyword expansion, and authority sculpting.
Check out these free SEO resources to help build your SEO strategy:
7. Build Your Content
Random and unfocused content here and there will not help your mortgage marketing program, but specifically curated and timed content will support everything from helping your website rank higher on Google to converting web traffic into lenders.
Content helps build "touchpoints" between your community bank and the services that borrowers are looking for. Before you start to develop content, you need to consider who the content is for and why they are looking for that content. Go back to your user personas and write a blog specifically to answer the questions of one persona. An example might be "How to choose the right banking partner for your first mortgage?" Answering this question with relevant and actionable information will allow you to soft-sell your banking services while also building trust and educating potential consumers.
Having a robust and diverse repository of content will help with email and social campaigns. It is always better to share original content when you are trying to build relationships. It shows that your bank is engaged and even gives an air of thought-leadership. Content is also helpful in building your page authority. If you post an article that other reputable websites link to, this will develop your creditability among search engines and make your blog and website significantly more visible to your target audience.
8. Use Email Marketing... Correctly
Email is something almost everyone has, making email an important channel to stay connected with your prospects and partners. The key to a successful email marketing program is to get your email delivered to a receptive audience, which means earning permission.
Once you have permission to send to your audience, make sure you deliver engaging, actionable, and personalized content. The main subject of a marketing email shouldn't be about getting more mortgage applications. It should be about communication and information sharing. Once you provide value to your recipients, it is okay and even recommended to include one line with a call to action.
Example: If you share the blog "How to choose the right banking partner for your first mortgage?"
CTA Button: Learn more about our first-time mortgage program today
9. Engage Using Social media
Social media is probably not where your audience is going to find the best mortgage rates or weigh their banking options, but according to a recent Pew Research survey, 82-90 percent of people 18 to 49 years of age are active on social media. With that is mind, social media is a place to engage with your target audience, share information, and gain insight into what users think about your mortgage program.
Your bank should start by selecting a social platform that will best engage your audience. I would suggest LinkedIn because of its professional nature and awesome analytics features and Facebook because of its massive user numbers and strong local brand awareness opportunities. Once you select your platforms, make sure you post relevant information your audience would find valuable.
Once you have a good posting cadence, use social media monitoring tools, such as Hubspot, Hootsuite, or Keyhole, enable you to see what your users and partners are saying about your bank or relevant topics online and start adding to the conversation.
Remember while social media may not directly deliver more loan applications, it can dissuade people from using your brand so post consciously and always be kind.
10. Thought Leadership
Thought leadership is any activity where an individual or a firm leverages their expertise to answer the questions top industry questions. Thought leadership activities lend validation for your mortgage marketing program through authority given to experts on a subject. It's like Dr. Oz suggesting a vitamin vs a GMC salesperson.
The reason that more people trust Dr. Oz's opinion (for better or worse) is because he participates in speaking events, panel discussions, medical conferences, and more. While there are better experts to ask for advice on vitamins, Dr. Oz has made himself a market authority figure and can leverage the most influence on many consumers.
Your bank can gain authority as a thought leader by holding or participating in educational classes for first- time home buyers, speaking at local property investment seminars, or hosting educational webinars about the mortgage application process. Any event where your experts can share their industry-specific knowledge with those looking for information is an authority building opportunity. Once your institution has a certain level of authority, the information it shares is seen as more than a marketing campaign, it is seen as guanine advice which earns customer trust, loyalty, and consideration
11. Build a Referral Program
Once you have followed the first 10 steps for building your mortgage marketing program, you will have a set of satisfied and loyal borrowers. The trick that most lending professionals forget is to continue your relationship with past customers. First of all, past customers may be looking to move, buy a second home, or refinance. However, they are also one of your best marketing resources.
If your bank does not offer a referral program, create one. There is no easier to sell than someone that was recommended to you by a happy past customer.
Here are a few tips to keep in mind when creating your loyalty program:
Keep it consistent – Your program needs to be consistent to be trustworthy and manageable.
Keep it simple – Most people do not refer their friends and family for the gift so keep the gift simple and cost-effective for all deals.
Advertise and promote – There is no reason to go through the hassle of setting up a referral program without a plan to spread the word.
Community Lenders Guide to Mortgage Marketing
This guide covers many of the key points in building a successful and robust mortgage marketing program. These tips may seem technical to some, but don't feel discouraged if you have trouble setting things up. If you need extra resources or professional assistance on any of these steps, the Unleashed team is here to help.
Challenge: Share what additional resources you have used to successfully complete a step in our guide.