Today, we are announcing our strategic and privileged partnership with SensioLabs, the creator of Symfony, the leading PHP framework to create websites and web applications. This strategic partnership represents the culmination of years of collaboration with SensioLabs – and a path forward to formalizing our powerful relationship. Together, we execute Symfony code and engage in initiatives ranging from Symfony migration projects to joint training efforts for our developers. This is a privileged partnership, as Unleashed is the preferred partner agency of SensioLabs in the United States. Unleashed is the tip of the spear for Symfony code in the US market and works hand in hand with SensioLabs to bring the best Symfony services to American companies.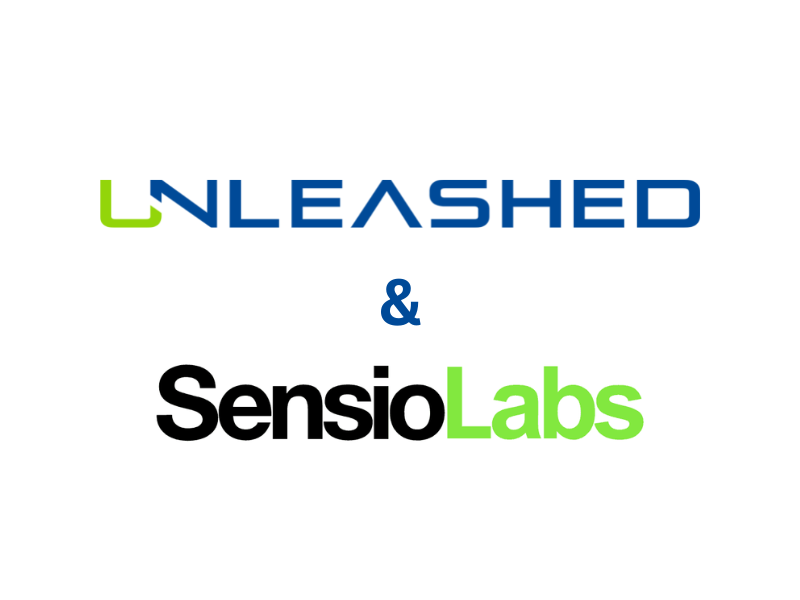 Our decision to partner with SensioLabs is very much in keeping with our DNA – from the very inception of Unleashed in 2007, we have remained an open-source, PHP-focused web technology business. In that spirit, we selected Drupal to manifest our PHP aspirations, and for over a decade, have helped our clients with developing and maintaining Drupal websites. And ever since the inception of Drupal 8, whose core relies on Symfony components, we increasingly recognize the emerging synergy between Drupal and Symfony development. In exchange for integrating Symfony in Drupal 8 and subsequent core versions of Drupal, the Drupal tech stack is able to leverage the large Symfony developer community while accessing unique Symfony tools to enable recurring tasks needed for building a Drupal application. That recurrence and standardization enables Drupal developers to use that time to build new features, rather than maintain existing code.  
It's that Drupal-Symfony synergy, and Symfony's stunning emphasis on community, that reminds us of why we gravitated towards Drupal in the first place. Just like Drupal's global community, Symfony offers a stable work environment that is lauded for its flexibility, power, user-friendliness, and active community of over 600,000 developers in 120 countries. Completely free and open-source, Symfony allows developers of all skill ranges to create web applications based on pre-made frameworks that save time and provide quality. With 11 billion downloads and counting, Symfony is increasingly the PHP back-end framework choice for so many developers and clients – including Unleashed.
The Right Decision for a PHP-Focused Agency like Unleashed 
For any agency, it's not an easy decision to enter into a new technology arena. After all, we're already executing in Drupal and WordPress – why go for something different like Symfony? Because in the world of development and digital, client-driven solutions and demands change at rapid speed – and Unleashed needs to be at the forefront of that change, truly leading and driving it.
Here at Unleashed, we pride ourselves on our expertise in Content Management Systems (CMS), namely in Drupal and WordPress. We also recognize industry trends towards headless applications leveraging Model-View-Controller (MVC) frameworks like Symfony, to produce websites and web applications that exceed what standard CMS platforms can provide. Headless websites and web applications mean that back-end and front-end applications can be different, such as Symfony on the back-end and React on the front-end. We are seeing more and more clients leverage this kind of headless symbiosis to drive their digital presence to accommodate their extremely specific and highly customized digital needs. Simply put, the CMS approach may not be sufficient for some clients. Many new websites and web applications require a higher degree of customization to meet the increasingly sophisticated and complex demands of customers who rely on the digital channel to drive many, if not most, of their revenue. 
Pursuing Symfony as Unleashed's next web technology stack is staying true to our PHP and Drupal roots, while embarking on a new path that helps to evolve those PHP roots even further. The freedom of open-source, and the importance of community support, are PHP attributes that we carry forward in our choice of Symfony. With these qualities, we add Symfony to our portfolio of open-source technologies to help modernize PHP. Migrating from legacy to modern frameworks is typically one of the biggest blockers when it comes to digital transformation. The PHP of yesterday may have been powerful at the time, but modern demands outweigh what older versions can deliver. By migrating to new frameworks such as those developed by Symfony, we can help clients future-proof their systems with scalability, better security, more reliability, and time-saving efficiency. 
And one might ask: why Symfony over other PHP-based platforms? Well this is why: because simply, Symfony is at the forefront of PHP innovation.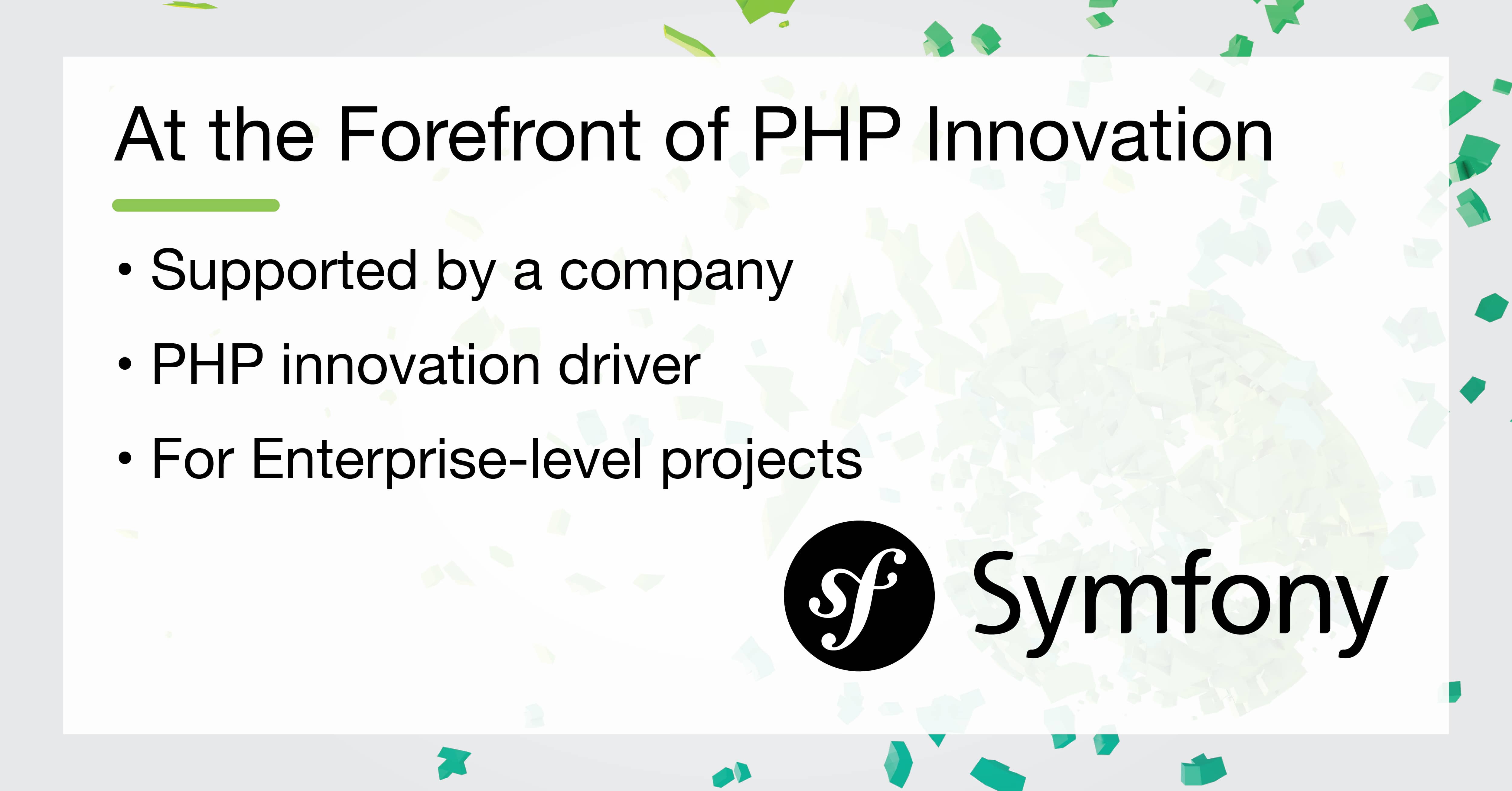 We are Listening to Customers 
Our mantra is to #UnleashClientSuccess. And there are certain customer commandments that Unleashed and SensioLabs have learned, especially in the past few years as digital has accelerated: 
Better experiences are worth more: According to Gladly's 2020 Customer Expectations Report, 84% of consumers are willing to spend more money on better experiences, and 79% say that personalized service is more important than personalized marketing.   
Business is personal: Nobody wants to feel like a support ticket or a 'dear x' in an email. By demonstrating a genuine understanding of their end-users through PHP frameworks and scripts, businesses can retain and grow their market share. What is more, 77% of people are more likely to recommend a brand to family and friends following a positive, personalized experience.
Customers never forget: Good customer service is important to more than 90% of customers, as reported by Microsoft in its Global State of Customer Service Report. A polite greeting at the end of the phone isn't enough: today's consumers want issues resolved swiftly through the channel of their choice, and without the need to repeat themselves. Just one bad experience can tarnish perceptions forever. 
'Omnichannel' is no longer a buzzword: In its Retailing 2020 Report, PWC found that the number of companies investing in omnichannel experiences has increased from 20% to more than 80%. To take full advantage of the potential benefits, technology needs to keep pace. Fortunately, with the correct application of PHP-based solutions, end-users can expect fast and seamless experience, where credentials and associated account data can be accessed and actioned 24/7, no matter where they are or what the access point is.
UX must be exceptional: The best UX goes unseen – users only notice when something goes wrong. A lagging website or poor mobile experience can quickly turn advocates into detractors. For instance, 57% of users will not recommend a business with poor mobile implementation, and 87% think that mobile experiences should match or exceed that of what is available on desktop. By employing purpose-built PHP frameworks, UX expectations can be met without the need to create solutions from scratch.
With these lessons in mind, we are working with SensioLabs to produce Symfony solutions that satisfy customer needs. We are employing the START, DESIGN, BUILD, and RUN approach with Symfony -- offering tailored, packaged solutions for our clients with this four-prong rubric as a framework: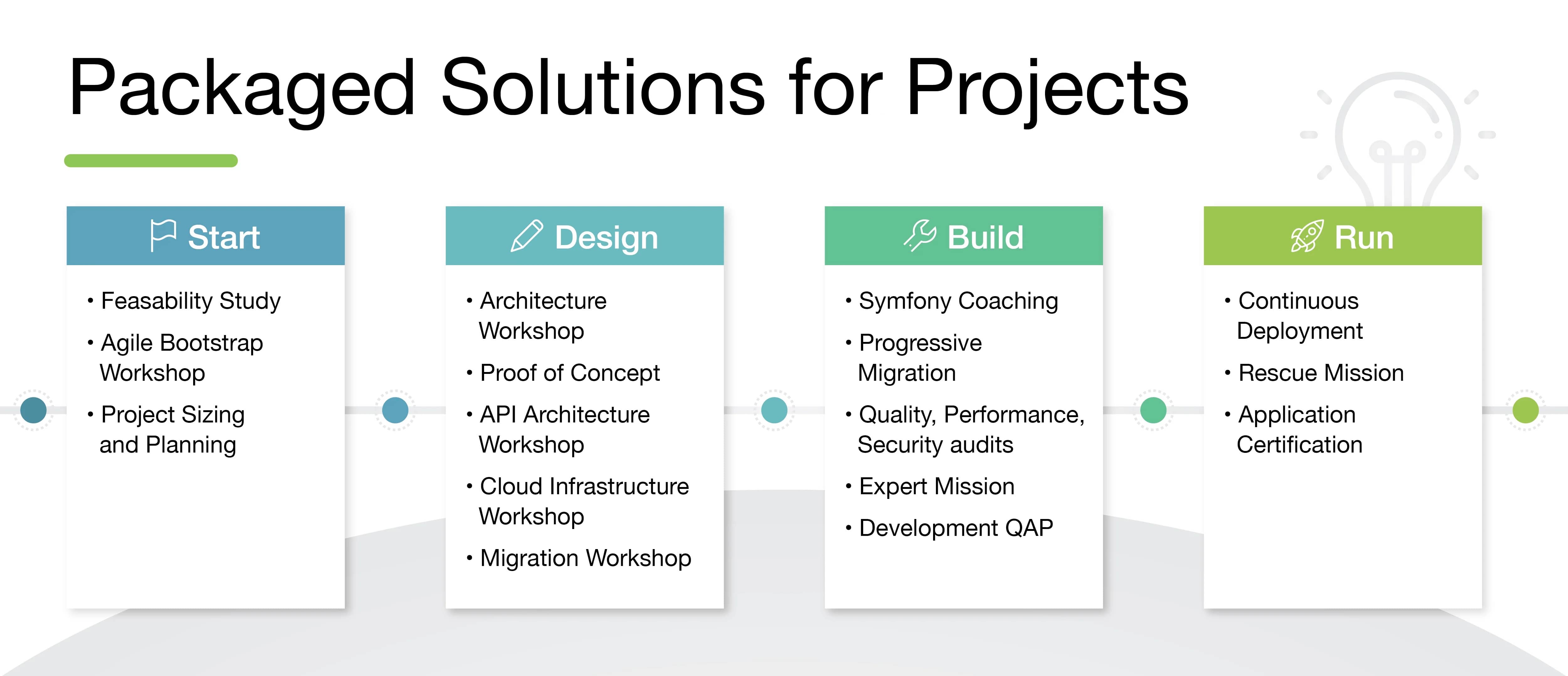 We are Listening to Developers and Project Managers 
We can only #UnleashClientSuccess by listening to our Unleashed team members and positioning them for success. But this is not a generic statement – this is a real granular pledge to our team members:
Symfony for Developers: The Symfony framework is made for the developer. Symfony is an internationally recognized, stable development environment under the MIT license, where the code does not require a Symfony developer to relearn how to code. Rather, it's about understanding the code in a new way. Symfony comes with interoperable software components called bundles that allow a developer to easily build business functionality as needed. Repetitive coding tasks are avoided, and several integrated solutions are available to make developers' lives easier, such as the Web Debug Toolbar. By using Symfony, a developer's maintenance is easier, development is faster, and security is better. As an open-source framework, Symfony is supported by a global community guided by industry best practices. And with dedicated professional support and advice from the solid partnership between Unleashed and SensioLabs, supported by SensioLabs University e-learning platform, developers can continue growing and strengthening their PHP coding expertise. 

Symfony for Project Managers: As a structured framework, Symfony gives project team members a shared reference for project consistency. This will help to clearly define the project, which will make it significantly easier to understand and maintain in the long term. Developing with Symfony is fast because developers can reuse generic components such as database connection modules and forms – enabling them to focus on the application's real challenges to create real business value. Project Managers benefit with repeatable processes and standardization across different projects. 
#UnleashSymfony
As we enter 2022, we are excited about partnering with SensioLabs to #UnleashSymfony and #UnleashClient Success. We continue our PHP journey by embracing Symfony and new tools to meet our clients' ever-changing and increasingly sophisticated demands. Digital and omnichannel drive the future of your organization. If you're open to Symfony to drive your digital presence, please use the form at the bottom of this page to contact our experts at Unleashed and get started today!