Whether you are starting a new YouTube channel or completing a cleanup and optimization of an existing channel, it can be a complicated and daunting task. One of the most common questions we are asked during this process is "What's the Best Video Format for YouTube"?
According to YouTube, the recommended video format is the .MP4 file type. To display your videos at the highest quality possible, YouTube also recommends using the h.264 video codec and a standard aspect ratio of 16:9. 
You may be wondering "If my video is formatted with a different file type, can it still be uploaded to YouTube?" or "Can it be converted to another format?" 
That's exactly what we're going to cover in-depth.
What Video Formats Work on YouTube?
YouTube supports the below file formats. If you're not sure what format your video is saved as, right-click on the video, scroll down and click on properties; at the top of the window, you will see the file type. Then check to see if you are using one of the formats listed here.
MOV
A MOV file is a Quicktime file format developed by Apple in 1998. This format is compatible with Windows and Macintosh platforms. 
MPEG4
Created by the Moving Picture Experts Group in 1998, the MPEG4 format is mainly used to include compression of audio and visual (VA) data. MPEG4 is also the recommended upload encoding setting for videos according to YouTube. 
MP4
The MP4 format is technically part of the MPEG4 family. Known as MPEG4 Part 14, the MP4 container format is the most commonly used file format for portable media players. 
AVI
Microsoft introduced the Audio-Video Interleaved (AVI) file in 1992. The file format is used to store audio and video for synchronous playback digitally.
WMV
The WMV file is based on the Microsoft Advanced Systems (ASF) container, compressed and encoded with Microsoft's Windows Media Video (WMV) proprietary codecs.
MPEG PS
The Program Stream or (MPEG PS) file format container was initially released in 1993 and is mainly used for multiplexing digital audio and video. It is most commonly used for DVDs and HD DVDs.
FLV
Originally developed by Macromedia, a company that was later purchased by Adobe. The Flash Video (FLV) is a container file format used by Adobe to deliver synchronized audio and video content. 
3GPP
3rd Generation Partnership Project (3GPP) Multimedia files, were created to allow 3G cell phones to play, record, view, and send multimedia files via the internet.
WebM
The development of the WebM file format was sponsored by Google and originally released in 2010. The file that was intended to provide a royalty-free alternative for HTML5, consists of video streams that have been compressed with the VP8 or VP9 codec and audio streams that are compressed with Vorbis, or Opus codec. 
DNxHR
Digital Nonlinear Extensible High Resolution, or (DNxHR) file format is an irreversible UHDTV compression codec developed for use with screen resolutions above 1080p.
ProRes
Developed by Apple, ProRes is a high quality, lossy video compression format. These codecs have made it both possible and affordable to edit full-frame, 10-bit, 4:2:2, and 4:4:4:4 high-definition (HD), 2K, 4K, 5K, and larger video sources.
CineForm
Purchased by GoPro in 2011, CineForm is a cross-platform intermediate codec designed for editing high-resolution footage with minimal loss in quality even after multiple encodes. 
HEVC (h265)
High-Efficiency Video Coding (HEVC), known as h265 is a video compression designed as part of the MPEG-H project. It supports resolutions up to 8192×4320, including 8K UHD. As of 2019, it is the second most widely used video coding format after AVC.
How To Convert A Video To Another Format
If you try to upload a video saved in an unsupported format, you will receive an "invalid file format" error message. Converting a video to another format can be completed using a free Google Chrome extension named Video Converter Online. 
The video converter extension will allow you to convert video files to a compatible YouTube format. Completing the conversion process is pretty straight forward. 
First, click the open-file button. Then choose the video that you would like to convert. Once the video file loads, select the new video file format you want, then click convert. Once the conversion is complete, download the new file and upload it to YouTube.
Technical Requirements & Need to Knows
To ensure all general best practices are being followed, in this section we will touch on some technical requirements that will keep your YouTube channel on the right track.
The Difference Between File Codecs & File Containers
File codecs are used to compress and decompress digital video files. Often during the compression stage the video loses some information that was present in the original video. This will cause the decompressed video to play at a lower quality than the original.
File Containers are how the video, audio, and metadata content is organized. The MP4 h.264, is the current industry standard for high definition video and provides the most practical way of distributing video content. 
Aspect Ratio
The standard aspect ratio for YouTube is 16:9. If you upload a video with a different aspect ratio, YouTube will automatically change the size to match your video and the viewer's device. (Note: If your video is not in the 16:9 recommended aspect ratio, YouTube may add more padding for optimal viewing.)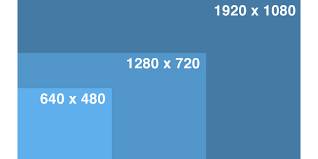 Recommended Video resolution
YouTube recommends that you follow the standard aspect ratio of 16:9 mentioned above, encoded at the following resolutions. 
2160p: 3840x2160
1440p: 2560x1440 
1080p: 1920x1080 
720p: 1280x720 
480p: 854x480 
360p: 640x360 
240p: 426x240 
Here at Unleashed, we recommend that you film your YouTube videos using 1080p resolution. This offers the maximum resolution for a full HD video and keeps your file sizes smaller than filming in the larger 4K and 2K video qualities.   
If data management and storage are an issue, recording in 720p is the minimum resolution for HD video. Your videos will still look excellent and professional for your viewers but allow you to use smaller file sizes.
Frame Rate
YouTube recommends videos should be shot in their recording device's native frame rate. Most cameras film content at 24-25 FPS, and this is the frame rate we recommend if you are shooting interviews, vlogs, and most things. If you happen to shoot at 30 FPS, this is also perfectly acceptable.
If you are shooting action shots for slow-motion, you may want to shoot them at 50, 60, or 100 FPS. Just remember, if you are shooting at 25 FPS, you want to shoot in direct multiples, 50 or 100 FPS. If you are shooting in 30 FPS, then 60 or 120 FPS. This will allow for easier editing and exporting.
Maximum File Size That You Can Upload
The maximum file size that you can upload to YouTube is 128GB or a full 12 hours of video, whichever is less. (Note: In the past upload limits were different, so you may occasionally see an older video that surpasses the 12-hour limit.)
Uploading Videos to YouTube
To upload a video to YouTube, first log into your account. In the upper right-hand corner, you will see an old black video camera with a white plus sign on it. Click on that camera and then Click "Upload Video."
Then select the video file you would like to upload. Depending on size, it may take a few minutes for the video to load completely. (Note that during the time when the video is loading, it will not be visible to the public.)
While waiting for your video to load, take the time to fill in a proper video title, description, custom thumbnail, and tags. Adding this vital information will allow your video to be found on YouTube and search engines like Google and Bing.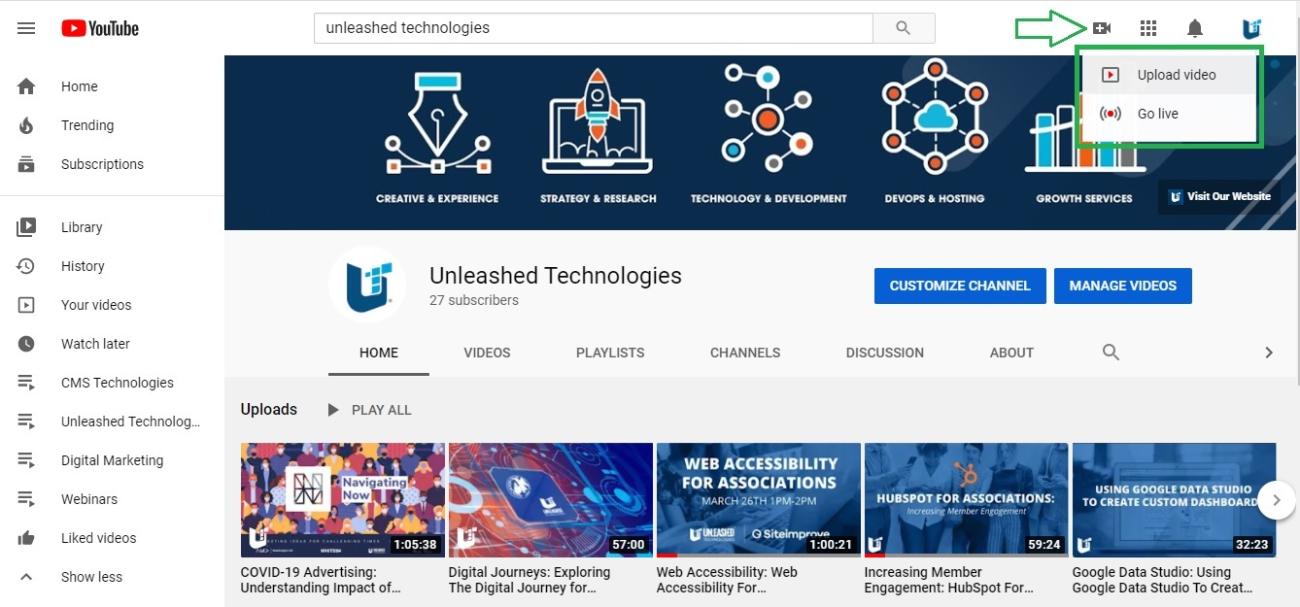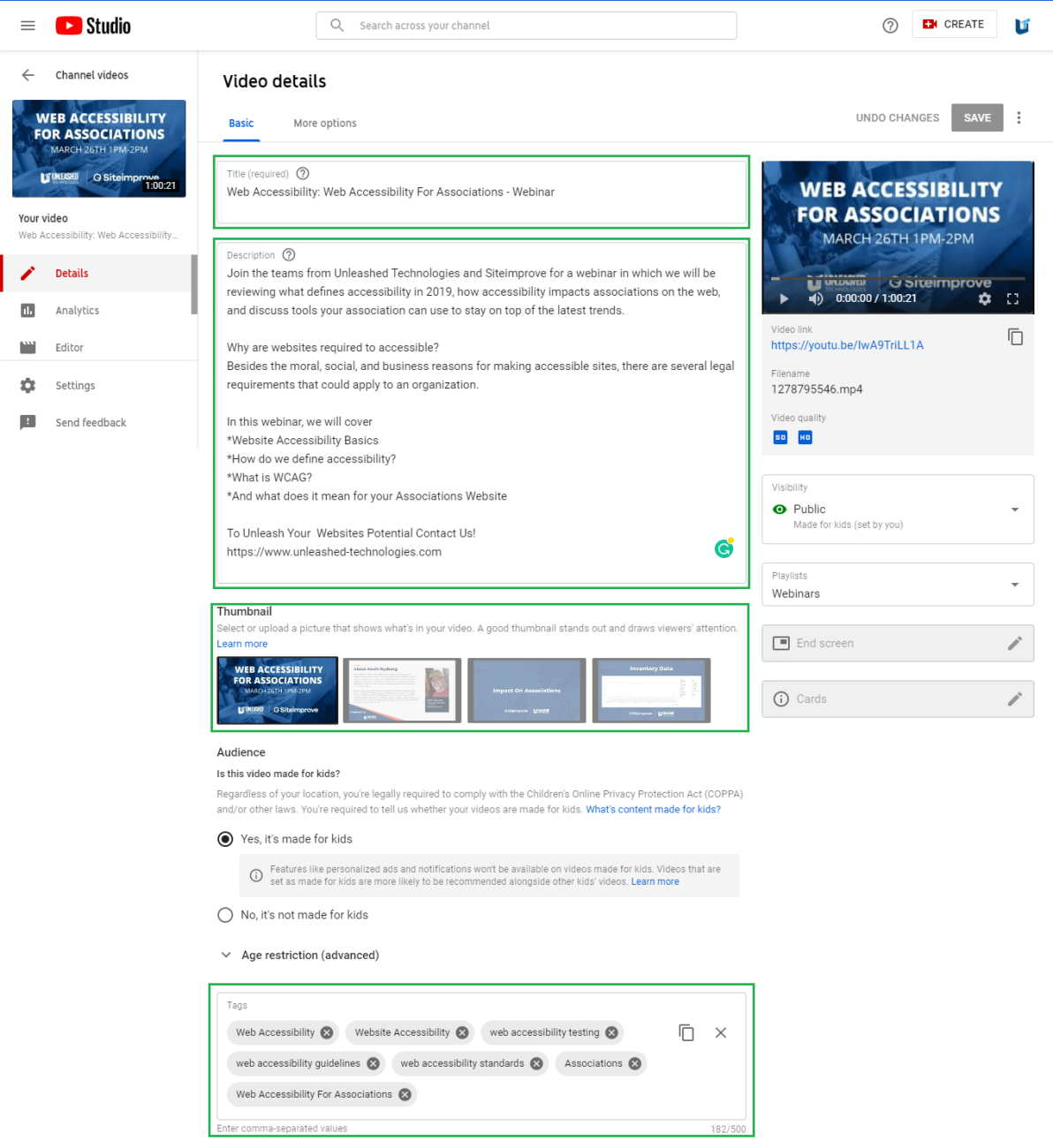 Not sure how to optimize your videos title, description, custom thumbnail, or tags? Don't worry; we are going to walk you through the process step-by-step in the next section. 
Upload Long Videos and Adding Custom Thumbnails
By default, the longest video that can be uploaded to YouTube is 15 minutes, and you will not have the ability to add custom thumbnails for videos. However, these default settings can easily be changed. To do so only takes a few minutes and requires that you verify your account.
To verify your account go to www.youtube.com/verify, click the verify button, and follow the prompts. Once completed, you will have the ability to upload videos lasting more than 15 minutes, add custom thumbnails, and live stream.
Congratulations, your video has been successfully uploaded. Now, it's time to learn precisely how to markup your video so it can be found on YouTube.
Marking Up Your Video for Search Engines
What's the point of spending all the time to develop content, produce, and film a video if once it's posted on YouTube, it gets lost in a sea of content never to be seen by your intended audience? In this section, we will talk about how to give your newly uploaded videos the best chance of being found on YouTube.
Optimizing Your Video Title
YouTube places more weight on the first few words of your title. To use this to your advantage, make sure you front load your main keywords to the beginning of your video title tag.
As you can see on the Unleashed YouTube channel, we have front-loaded the main keyword topic that we want our videos to rank for in search.
Because of this, we quickly ranked near the top for the competitive keyword set "web accessibility." This has worked so well that we have optimized almost all of our YouTube titles using this technique.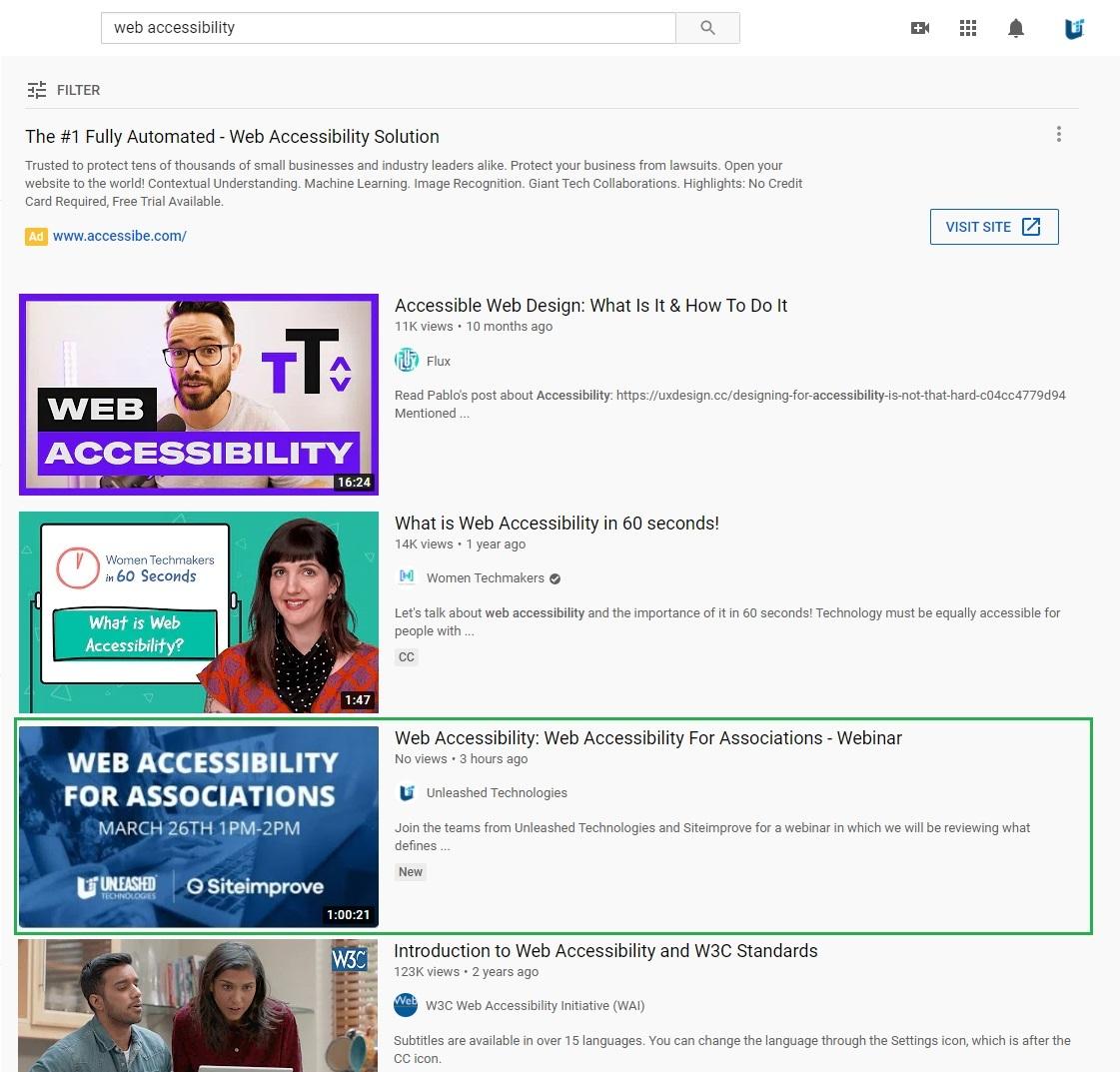 Adding Video Tags Properly
Make sure to add tags to your video to help YouTube better understand what your video is about. When you do this, limit the hand-full of tags you choose and make sure they are specific to your main topic. To ensure you are assigning tags appropriately, use the Target, Alternative, and Broad (TAB) method when applying tags. Quick shout-out to Brian Dean for introducing me to the TAB Method.
Target: Your target keyword goes first. YouTube will place more weight on the first tag, so be sure to use your main keyword first.
Alternative: Next, add two or three tags that hold alternative versions of your main keyword term. Use YouTube suggests to find alternatives by adding your main keyword into the search bar. Then look at what suggestions appear, and pick appropriate alternatives.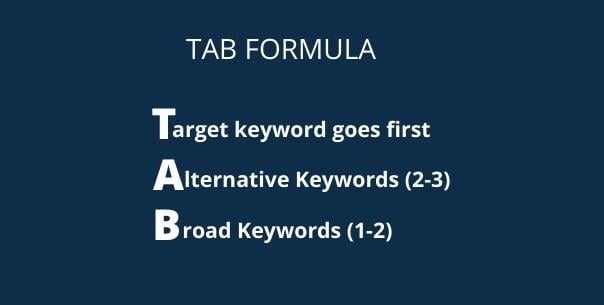 Broad: Lastly, add one or two broad keyword terms about your topic. These tags should include terms around your videos overall industry or topic. The broad tags provide YouTube with more context about your video.   
Video Thumbnail
When you upload your video, YouTube will provide a few different screenshots you can use for the preview thumbnail. Don't use them, instead create a custom thumbnail. To make your video stand out from others and the default colors of YouTube (black, red, and white). We recommend using blue, orange, green, or yellow as the primary color when creating your thumbnail. This way your thumbnail visually pops, and stands out in the crowd.
This is why we mostly use blue as the primary color in our thumbnails. When creating your YouTube thumbnail image, the recommended size is 1280 x 720 pixels. This size will provide a clean and crisp image.
Video Descriptions
When writing your video descriptions, be sure to write at least a one hundred to two hundred word description. The extended description will provide more context and help YouTube better understand what your video is about.
Here's an example of an optimized video description from one of our videos. This description is 133 words and really breaks down what is covered in the video.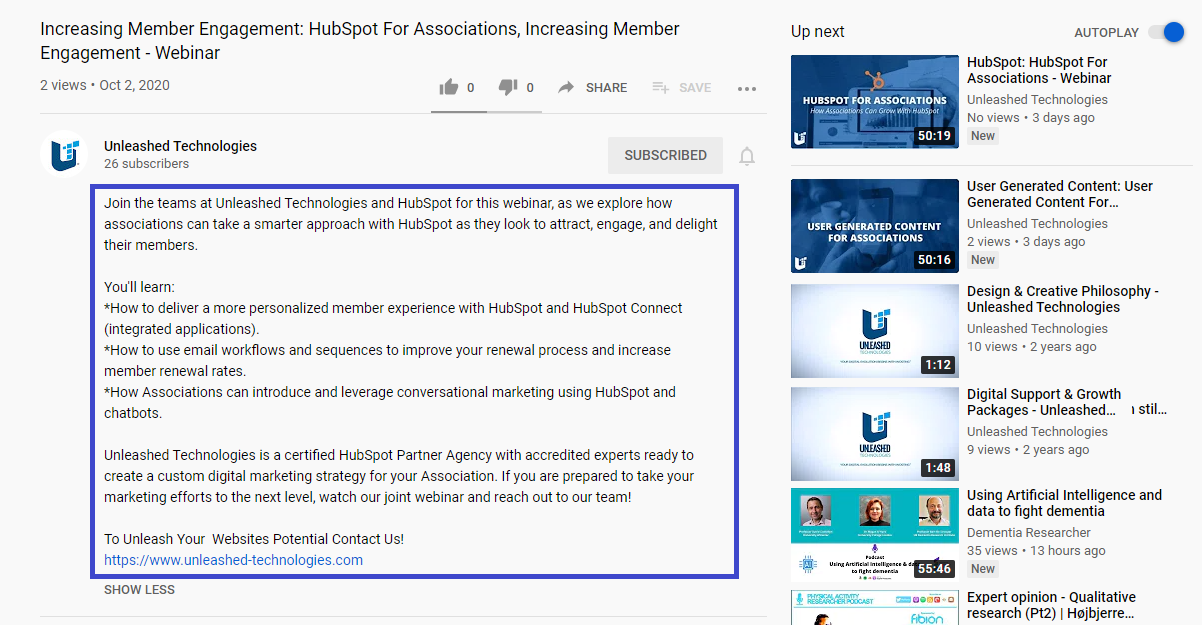 Add Chapters to Your Videos Using Timestamps
Adding timestamps to your YouTube video's description is a great way to allow users to quickly and easly locate the specific information they want and watch it without having to watch or shuffle through the entire video. The process of adding these "chapters," as YouTube calls them, is easy. They will appear at the bottom of the video player progress line and as timestamps inside the video description. 
Here's how it's done...
First, go to your video's description. This is where you will add your list of timestamps. The first timestamp must be marked as "0:00". Use keyword-rich titles to help users and search engines understand precisely what they will see. Be sure to add a space in between the timestamp and the chapter title.
(Note: You must have at least three timestamps/titles in your list, and each chapter must be a least ten seconds in length.) 
Continue to add as many timestamps and titles as you like for the rest of the video. Then click Save. Now, you will see those chapters appear on your video's progress line, and the timestamps in your description will allow users to navigate to that chapter quickly.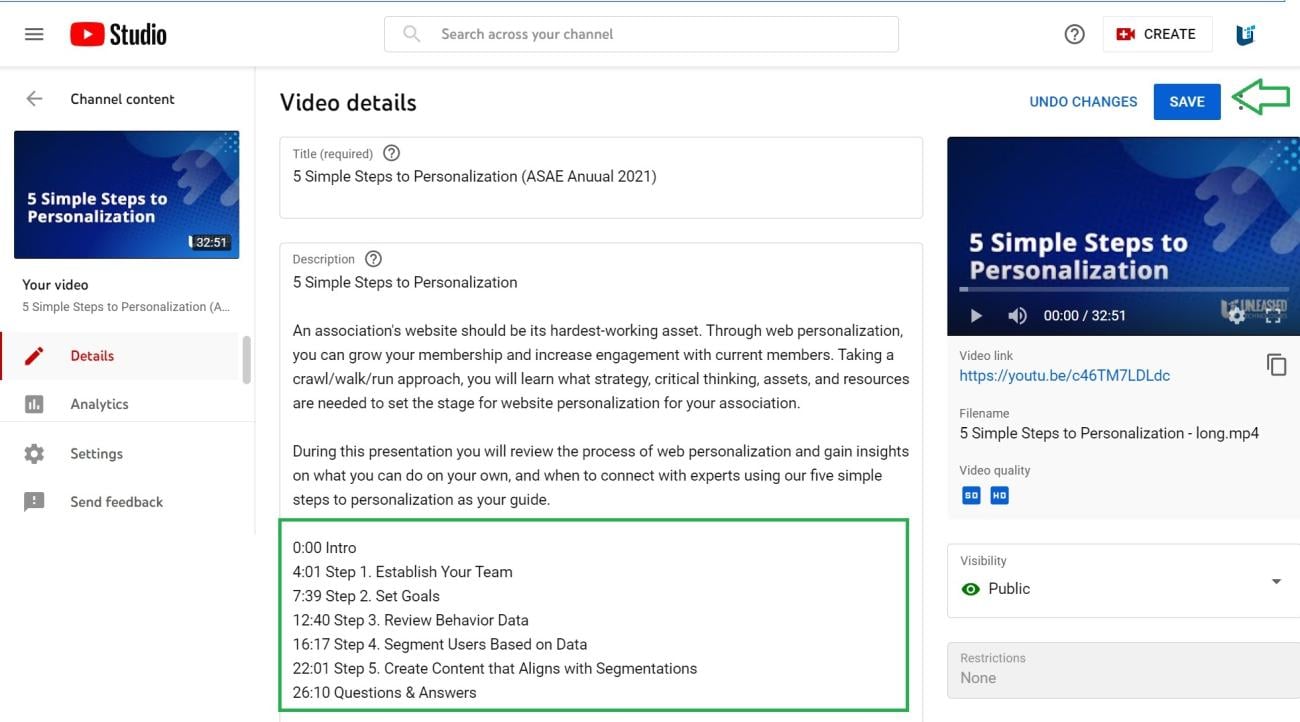 Adding Additional Related Resources
Another way to spice up your video description is to add related resources. This will allow users to find more information about a topic they have already shown interest in.
Linking them back to your website or another related video will keep users on your YouTube channel longer and increase watch time.
Adding UTM parameters to the links that point back to your website will allow you to easily add identifying campaign information and track anyone who visits your website from these recommendations.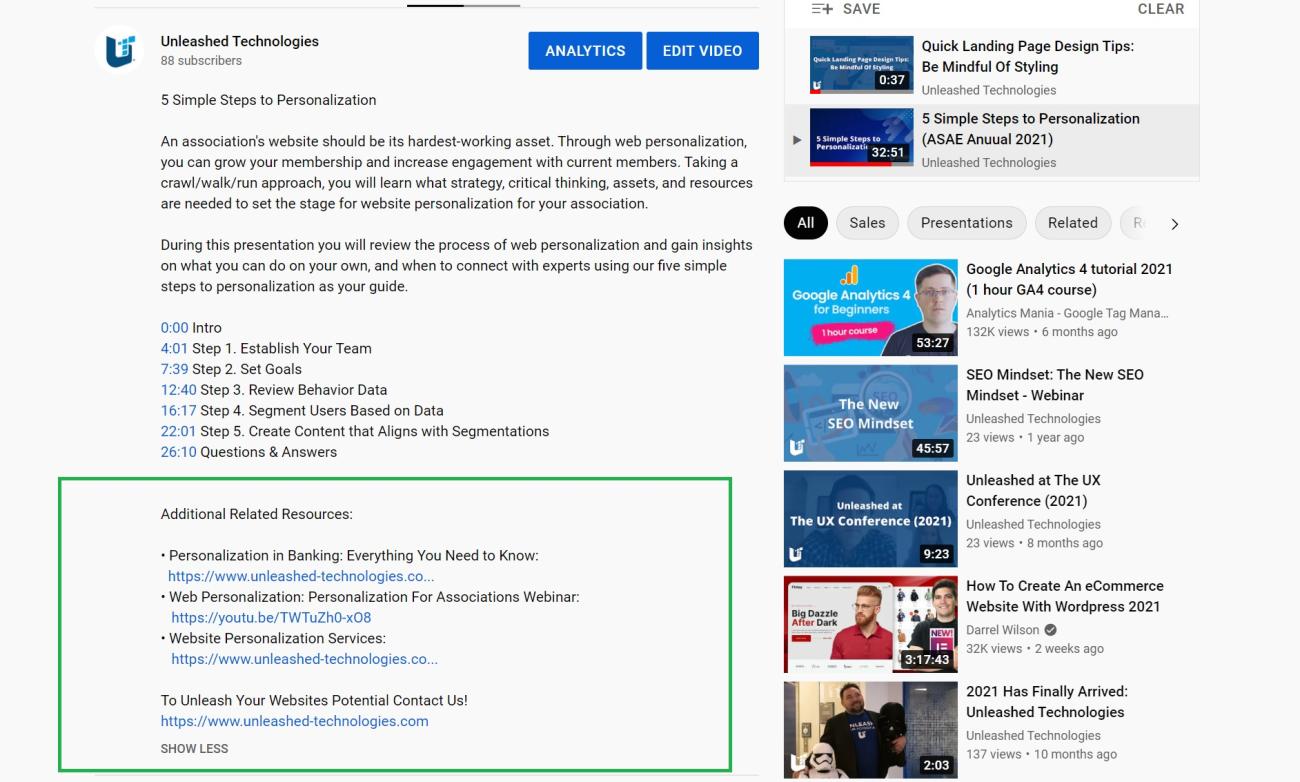 Optimize for Suggested Videos
Some keywords are challenging to show up high for in YouTube's search results. Luckily, there's a way you can grab video views, stealing them away from more popular videos. Optimize your video to appear in the suggested videos section. This is the row of videos that show up on the right-hand sidebar of another video.
To give your video the best chance to rank in the suggested videos section, you should use the same tags that video uses. This way, YouTube understands your video is about the same topic and may place it in the suggested video sidebar.
To see what tags a video is ranking for is pretty simple, just look at the page source. If you use the Chrome web browser, right-click on the page and choose "View Page Source." Then find the Keywords section in the source code of the page. The keywords in that section are the tags for that video. Once you have located them, copy a few keywords, and add them to the tags on your video. Make sure you copy the keywords and add them exactly word-for-word for the best results. 
Quick Tip: Once on the source code page, hit "Ctrl + F" to bring up the search bar. Add "keywords" in the search bar and hit enter. It will locate the keywords section on the page, highlighting it in yellow.
Closed Caption your YouTube Videos
Adding subtitles and closed captions to your YouTube video can help your video rank better in search results and help those with accessibility issues enjoy your content. A study conducted by the Discovery Digital Networks (DDN) found that captioned videos enjoyed 7.32 percent more views on average while ranking higher in YouTubes search results. 
The good news is that captioning your videos is easy, and we will walk you through how to set them up step-by-step. 
Go to your YouTube channel, then click on manage videos. Next, click on the "Subtitles" option located on the left-hand sidebar menu. 
After that step, click on the drop-down arrow located under the languages section for the video you would like to add closed captions. Pick your video language. For us, it would be English (United States) and hit confirm.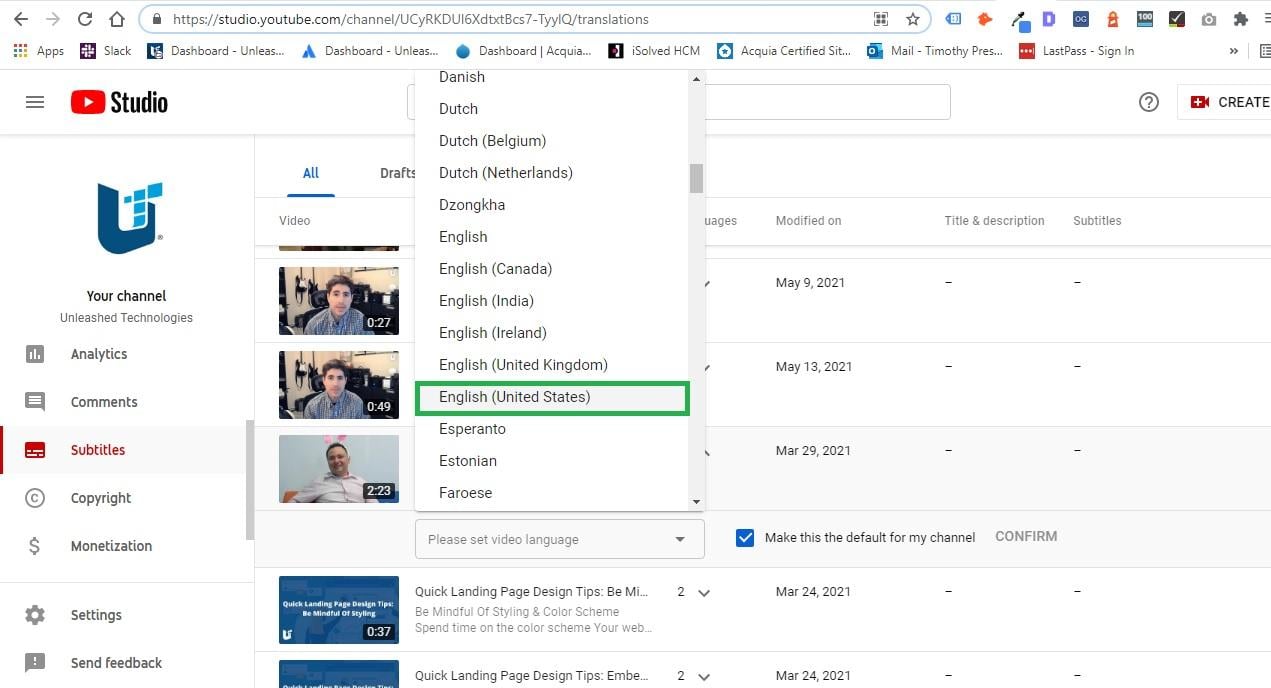 After that, you will see "Published Automatic" underneath subtitles. Now, click "Duplicate and Edit". 
You will now see your video on the right and the auto-generated transcript on the left. Play through the video, and review to make sure the closed captions are correct. Once you are satisfied, click publish.  
Now your video will have a closed caption transcript!
Wrapping It Up
I hope you got a lot of value out of this post. I know that we covered a lot more than just what the best video format for YouTube was, so I have to ask: What tip, technique, or strategy from today's post did you find the most beneficial? 
Maybe it was how to convert a video to another format? Or how to optimize your video to show up in the suggested videos sidebar. Either way, let me know by leaving a comment below!