Recently through a product of opportunity, Unleashed has expanded significantly into the banking industry and has learned quite a bit in the course of our endeavors. What's interesting is the surprising number of banks struggling with making a sound decision on what content management system should be powering their banks online presence(s).
The truth is banks around the nation, particularly at the regional level, are more challenged than ever by the monoliths that are taking over communities worldwide. Minimally, banks competing must keep their customer confidence as high as possible, which is why for the first time, in the last ten years, banks have had to put a major focus on their public image through highly dynamic web technologies. Enter Drupal.
Banks are currently facing the following challenges:
1. The ability to grow their technology stack in accordance with customer expectations.
2. Loss of market share not only for BTC banking, but for B2B services as well.
3. Creating seamless and inspiring experiences on par with larger competition.
4. Providing highly secure platforms, regardless of what data is available on or through their primary web presence.
5. Increased regulations and compliancy issues that are becoming a liability of the bank, no matter how frivolous.
Drupal sets banks up to tackle these challenges head-on based on its truly scalable nature from the ground up. Taking it from the basis of technology, it already helps with four major items on our list which include: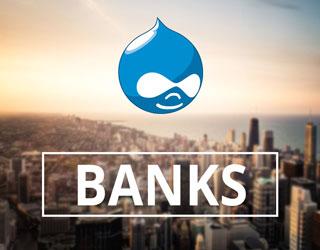 Provides a Highly Secure Platform
Drupal is currently the content management system (CMS) of choice for the federal government, state government, associations, higher educations, high volume consumer websites, and much more. Its focus on security isn't a new development, but it has been ingrained into the platform from its very first iterations. A great open-source platform has a culture to it and security is part of Drupal's. So much so, that it is well regarded as a significantly more secure platform than its open-source counterparts such as Joomla or WordPress.
Flexible for Future Expectations
Flexibility is a word that every CMS throws around to help qualify it for the big leagues. The truth is very few CMS' fit what most would consider the definition of flexible. Drupal from its very base provides the maximum amount of capabilities for managing complex integrations, creating dynamic web experiences that don't fall into a "pre-built template" structure, and allowing the highest level of control for a marketing team to be able to function at a Super-User level.
This level of flexibility on the management and development side helps banks ready themselves for the next big expectation, as consumers are constantly adjusting what they expect from their bank. As a final note to make it specific for the banking industry, it's very common to have many systems running very various aspects of the bank's business. Whether it's core banking software for consumers, investment portals, or B2B tools and resources, it is important to make that experience as seamless as possible for their customers. Drupal excels at helping those resources come together for a seamless experience while limiting threat exposure.
Meets Compliancy Standards
Banks are being hit hard for accessibility-related issues that are taking the form of intense legal action. These lawsuits are far more expensive than a great investment into a platform that is going to meet the standards set forth by our nation's governing body. Drupal puts banks on immediate solid footing to meet and stay continually in compliance with ADA standards.
Drupal supports the accessibility standards that banks require to protect themselves from these frivolous attacks. This standard is known as WCAG 2.0.
Capable of Consolidating
I have yet to see a bank in my life that doesn't have 12 different portals, 100 different calculators, and a lot of other tool sets to help their constituents, whether it be consumers or businesses or anybody that interacts with their bank, get the most from them. Drupal allows us to pull all these resources together, in a single portal that's very intuitive for the end-user.
Get In Touch
If you're a banking institution looking to make a switch, we recommend Drupal at this point in time based on how the platform has evolved into its most current iteration. If you're on WordPress or Drupal and would like to learn how we can help you stay competitive in an ever-changing landscape or just ensure that your meeting accessibility standards, don't hesitate to reach out.