Technology integration is the key to unlocking success for your association. Like the rest of the world's industries, associations are expanding their relationship with technology. Sixty-four percent of all organizations are planning to invest in new technologies this year, and 70 percent of non-profit "thrivers" are investing in new technology, according to the BDO Institute for Non-Profit Success. This significant step towards technology is not a new trend, but one that is experiencing increased acceleration thanks to social distancing measures. 
What is technology integration?
Technology integration within the association's industry is the seamless use of technological resources to enhance most or all operations and communications.
Every association uses technology to assist in their daily tasks. Still, most organizations have integrated their tech stack only where products are overlapping, and there is still an opportunity to improve data quality or to improve efficiency and make daily tasks frictionless.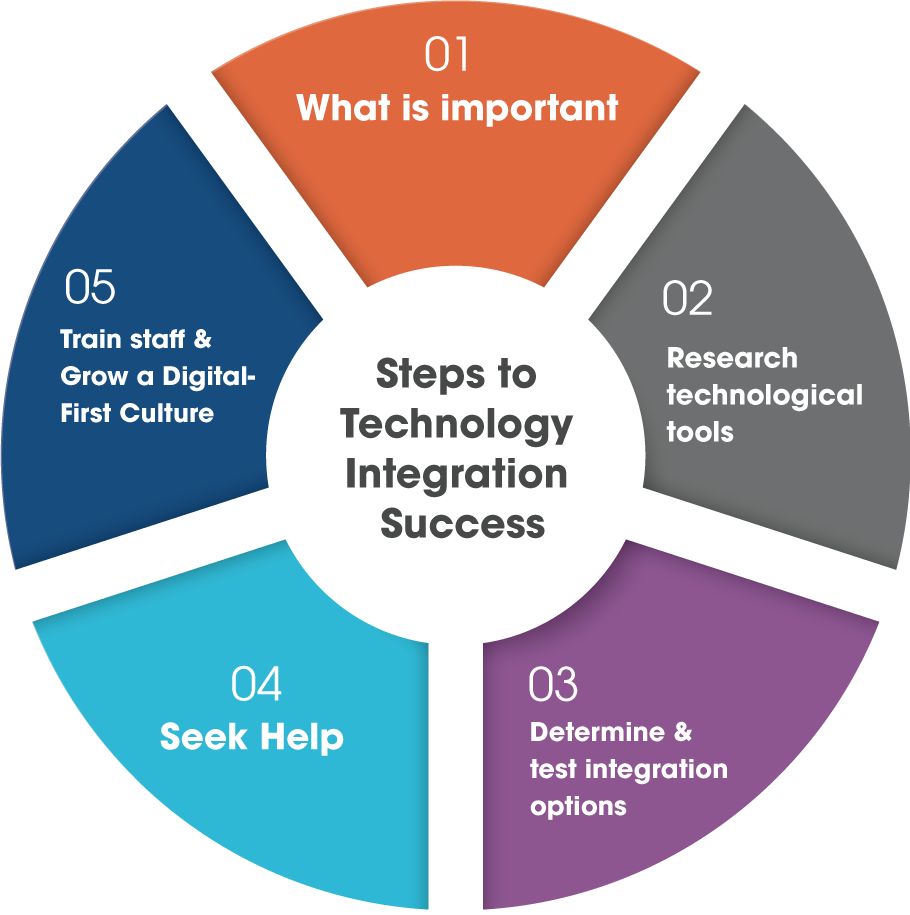 For example, when the National Guard Association of the United States (NGAUS) launched a more advanced and user-friendly website, the company prioritized and enhanced user experience for members by including integration with NetFORUM Enterprise, the organization's backend membership management solution. 
Working with Unleashed and benel Solutions, the project team enabled a seamless membership experience triggered through a members-only single sign-on (SSO) that connects directly to NetFORUM eWeb. This integration enabled direct data and information inputs as NGAUS members join, renew, set up installment payments, update their contact information, register for events, make donations, control subscription preferences, and more.  
Where to start your technology integration journey?
Technology can be daunting, but we can all agree that technology, when appropriately used, breeds efficiency. Why then are most associations a piecemeal of digital tools? It is because integration can seem complicated and time-consuming. However, it does not have to be.
The first step is to assess your tech stack and identify where information and data workflows are breaking down or becoming inefficient manual tasks. At this point, you need to evaluate the importance of those processes and determine the difficulty of integrating those technologies.
This is where expert and experienced team members (internal or external) can prove extensive value. Some firms can provide a roadmap for your tech stack and address the opportunities and challenges with possible integrations.
While small integrations can often be done in-house, more complex integrations are usually worth expert resources to manage complicated elements of the project or the entire project
For the NetFORUM project, NGAUS and Unleashed worked with benel Solutions to ensure the integration was successful and continued to provide value to the association.
As the leaders of integrations in the association industry, benel Solutions develops the best of breed solutions to meet client needs without over-engineering or missing important security and performance requirements. 
Before you determine an in-house integration process or select an expert partner, here are some tips to get you started. 
Tips to Technology Integrated Success
What is important
Before technology integration can help your association, you must determine what organizational processes are most important. For many associations, this will be membership growth, education, or resource sharing. Once the most crucial processes to your association's health are determined, you can start looking at the technology involved and how the process can be made more efficient. Make a list of all the technological tools that assist in the most essential operations.
 
Research technological tools
Once you determine what processes and technology tools are important to your organization, it is time to dive into research. You should start by examining your current tools to assess their integration options and identify their limitations in connecting with other tech tools. If the tool does not integrate well or has limited integration options, it is time to broaden your research. 
 
Determine and test integration options 
Once you have completed your research on your chosen tech stack, you should determine how the technological tools should best interact with each other to meet your association's goals. Once you have this idea in mind, it is time to integrate your tools. In some cases, you will be disappointed with the limited success of your integrations. This could be a limitation of the chosen technology, or it could be user error, but if the integration is less than harmonious, it is time to get professional assistance.
 
Seek Help
Asking for help is hard. It is even harder when you must pay for it. However, in this case, asking for help sooner will save money through cutting out inefficiency. At this point, you should know that the technological tools chosen are crucial to the success of your association, so efficiency within that system will translate to saved dollars in the long run. Who you choose to work with during this phase in your organizations technology integration journey is very important. You must select an organization that understands your associations' unique goals, challenges, and culture, as all of these will be affected by the integration journey.  
 
Train staff and Grow a Digital-First Culture
Once you have achieved full technology integration, your association team must be trained on using the technology correctly. If staff continue to jump in and out of programs and processes, all the association's efficiency will be lost.

It is not enough to simply train team members on using the technology; the organization must build in time for staff to play with the tools and become familiar with new process efficiencies. This approach will gain buy-in to the new system and feed your association's digital-first culture, which enables a shift in mindset and can empower staff in future technology adoption or shifts.
Associations need to be efficient and resourceful when it comes to accomplishing their technology and innovation goals. With all the changes in tech, it is hard to keep up with the latest developments and changes in the product landscape. 
That is why your team should take time to go through all your tools and determine if they serve the association's goals harmoniously and holistically. This mindset is new and will take time to adapt but remember the early adapter fare better in hard times, especially in an age that demands more innovation than ever before.
To learn more about integrating backend products into your website or web app, schedule a call with a solutions analyst at Unleashed.